Registering. Love it or hate it, registering has become an expected part of getting married and having babies. Registering for our wedding was fun and exciting for me. Plates, flatware, vases, towels, coasters... hand me that scanner, I'm all over this! But when it came time to register for baby stuff, things felt a bit more overwhelming.
It can be pretty intimidating (especially at stores like Babies R Us or Buy Buy Baby) walking in and seeing a billion and a half baby items stacked to the ceiling. We did a minimal amount of research about strollers and car seats and monitors before going in to register. That helped a little but our registry looked vastly different from the time we began the process until our first shower. And that's ok! Don't be afraid to change your registry as time goes on! It's not set in stone!
Public Service Announcement Before You Register: Go well fed. That's what some of our friends told us to do and that was some very wise advice. A hangry pregnant lady, or a hangry husband for that matter, is no fun to register with.
Now that we are 9 months into this new life with a baby I thought I would share a little bit about the things we got - reviews and recommendations. I tried to highlight the most important, loved, and used items. I also made note of things that were maybe not as useful - things we could probably have done without.
- Transportation -
Stroller
We had such a hard time picking out a stroller. Literally, I think we had registered for about 7 different ones before we decided on which one we wanted. My mom finally gave up and just gave us a gift card because we kept changing our minds ;-) We decided on the
Graco Pace
. We thought about registering for a jogging stroller, but realized we probably wouldn't use it for jogging :-) We did like the maneuverability of a three wheeled stroller vs four. We have been very happy with it. It's easy to set up, it clicks in with our car seat, it's fairly lightweight, and has ample storage. We like that it has two cup holders and space for stashing keys/cell phones.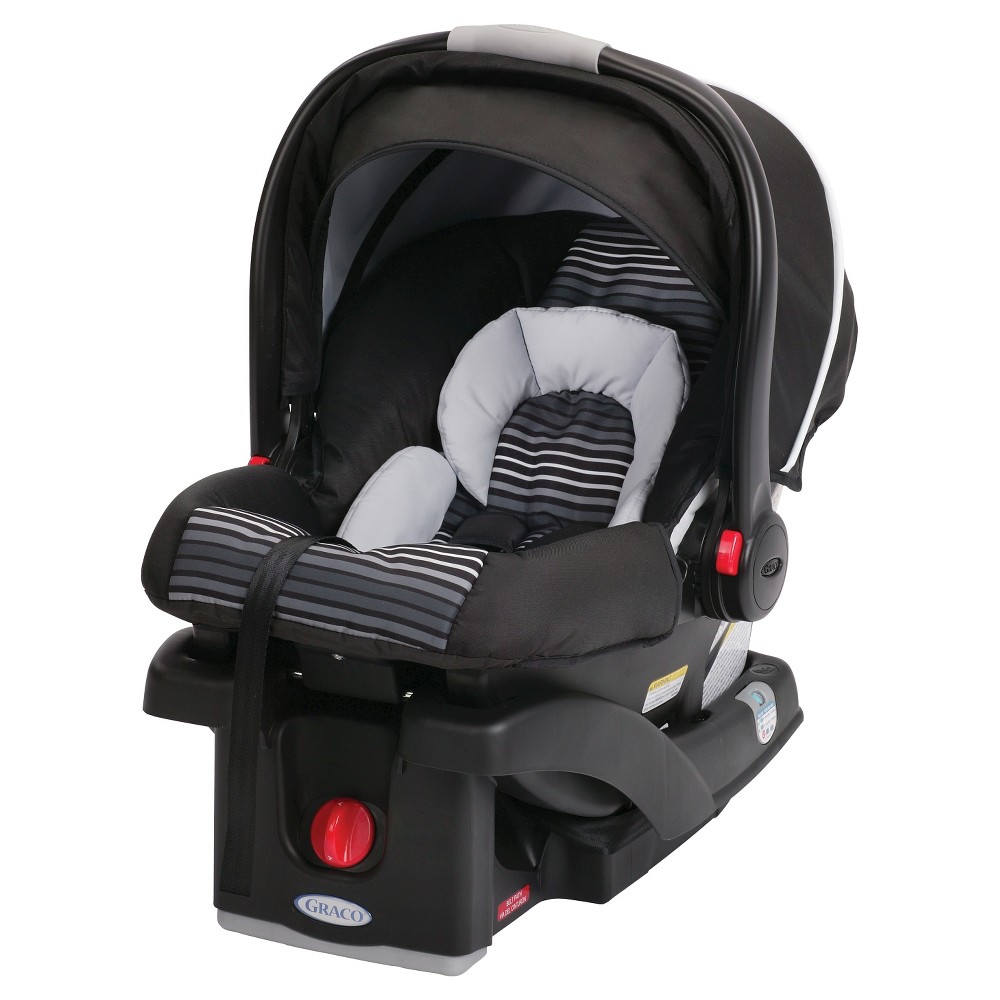 Car Seat
Another agonizing choice. We looked on Consumer Reports, which ranks the Chicco as the best car seat. We ended up going with Graco due to a rather sizable price difference…especially if you factor in the cost of strollers (most brands usually will allow the car seat to click into the stroller- you typically want the same brand due to that fact). I know people that have Chicco strollers and car seats and love them. We have the
Graco Snugride 30
that clicks into our Graco Pace. The Snugride 30 also scored well on Consumer Reports, just not as well as Chicco. We like it just fine. No major complaints. We also bought a
mirror
to hang in the car so that you can see what your baby is doing. I LOVE being able to peek back at him to see if he is sleeping, or just to see his cute little face! :-) And we have an
extra base
for the car seat so that we can easily transport Mr. Abe in either of our cars. We just recently switched him to a convertible car seat (
Graco Contender65
) and have been very happy with it thus far.
Umbrella Stroller
An
umbrella stroller
is great to have since its extremely light weight and stores easily. We were gifted the cutest little shark umbrella stroller. (Side note: as cute as this particular stroller is, it's not super durable. The wheels feel a bit flimsy to me so I don't see it lasting for too many years of use.) Abe and I went trick-or-treating downtown with my sister and her kids. I dressed him up like a pumpkin and I put him in his little shark umbrella stroller. I told people "He's a shark who ate a pumpkin!" He was quite the crowd-pleaser!
Can you believe that I don't have a picture?! #momfail
Baby Carrier
When Abram was a newborn I got a
Boba Wrap
which I really liked for going on walks, doing stuff around the house, grocery shopping. It's especially nice for when they are really little and can't support their head. We also were given the
Baby Bjorn
and we use that a lot now that he is older and can support his head. He loves, and always has, being put in a carrier. And it's nice for us too! There are tons of different types of baby carriers out there. But for us, having these two different types worked well.
- Nutrition/Eating -
High Chair
We have the
Chicco Polly High Chair
and we don't really love it. However, we aren't convinced that we would love any high chair. I think they just tend to be a little cumbersome. A feature that I really like about it, that I'm guessing is standard, is that you can recline the back. Sometimes I will finish feeding him food and then it's nice to recline him and give him some of his bottle. But when you do recline the back and when you move the tray in and out, I feel like it is difficult to get them locked into the next setting. I remember seeing some highchairs that had a storage net for bibs on the back of the high chair. I wish ours had that. I do like that we can lift off the tray cover and wash that versus having to take off the whole tray.
We opted to not get a bumbo because it doesn't seem like it would be super useful for a significant amount of time. Instead we registered for the
Ingenuity 2 in 1 booster seat
. It's great because it has an insert that acts as a bumbo when they are little, or you can take the insert out and use it as a booster seat when they get bigger. We like to take it with us when we travel. It has a built in tray too that fits into the base when you aren't using it. Which, again, makes it easy to travel with.
Pump
It is absolutely imperative (at least in my opinion) to get a good quality pump. Depending on your insurance, it will likely cover the cost of the entire pump. I was worried about the quality of pump I would qualify for but it turns out that the
Medela Pump in style advanced
is one of the best.
Just an FYI, insurance covered the pump and basic accessories, but not a storage/travel bag -which you will definitely want.
Having a quality pump has been essential for me. I nursed Abram for 3 months but would pump about once a day (usually in the morning) to relieve any engorgement and to encourage supply. I was still having a fare amount of pain with breastfeeding so I switched to pumping exclusively a little after 3 months and have been doing that ever since. I know that if I didn't have a good pump I would have stopped long ago and switched to formula. Also, even if you just plan to pump at work, I highly recommend getting a
handsfree bra for pumping
. It makes the process a lot less of an annoyance.
I know there are probably better, more specifically made, pillows for nursing, but this is what I used. It's also nice for when they are just starting to sit. We used it a lot to prevent him from falling back and hitting his head.
Bottles
We have about 15 bottles (mainly 6oz and some 9oz) which is great. My sister gave us all of hers and she used
Playtex VentAire
. We have no complaints about them, although, we haven't really used anything else. I also have heard very good things about Dr. Brown bottles. I've heard that those really help prevent excessive spit up. As far as cleaning bottles go, we bought a bottle brush without a sponge (gross!) and just use a normal drying pad to dry them on. No need for a special drying rack just for bottles… at least we didn't think so. We have slow, medium, and fast nipples but you may not need the medium or fast nipples if you stick with nursing.
Baby Bullet
Another thing my sister passed on to me was their
baby bullet
for making baby food. Do you need a baby bullet specifically if you want to make your own baby food? No, you could use any food processor or blender. But since I was given one for free, that's what we use. It works really well, creating smooth purees for my little babe. I don't particularly care for the plastic individual food storage containers. They break easily. My preference is to freeze food in s
ilicone baby food trays
and then transfer them into big freezer bags. I also use ice cube trays for freezing food. The bullet also comes with a helpful book with recipes and recommendations as to when to introduce certain foods. But you can find that information easily online. Making my own baby food has become something I really enjoy doing. It's pretty easy, you save tons of money, and you know exactly what your baby is eating. I think it sounds much more impressive than it actually is. :-)
- Play Time -
Swing
Abram loved his swing but I also have heard raving reviews for what's called a rock-n-play. A lot of people use that as a bassinet. Abe slept in his crib from day one so we didn't really have a need for something like that. Although, I probably would have used the rock-n-play for naps. I've heard that it really helps to soothe fussy babies, but so does a swing. My strong recommendation is to make sure your swing plugs in and doesn't run on batteries.
This
is very similar to the one we have. We used it from newborn to 6 months.
Bouncy Seat
A bouncy seat was another thing that was passed down by my sister (
here's one that is similar
). We used it from about 1 month to 5 months. So you don't use it super long. I liked it for play time or I'd put it in the bathroom while I got ready in the morning. They are light and portable, so we occasionally took it with us to friends' houses.

Pretty much the only official teething toy we use. I don't know exactly why, but babies love this thing. Abram is no exception! For a while we would bring it with us almost everywhere we went. We also have the
elephant version
but he doesn't like it nearly as much. Although, if I would have seen
this fawn version
, I probably would have registered for this one over all the others! So cute!
Exersaucer
Here is the one
we have. I think a lot of times you can get these second hand. I like having it because it helps exercise their legs, keeps them entertained, keeps them upright, and keeps them contained. I use it a lot if I need to sweep or do something where I want to make sure the baby stays out of the way for a little bit.
Learning Table
And now, more recently, Abram LOVES
his learning table
. My mom got it at a garage sale a couple years ago and looks like they still sell it. It's great for him now that he can stand. (and it's great before they can stand too because the legs come off and they can play with it on the floor.) Lately, he'll spend most of his playtime at it dancing and grooving to the music. And I spend most of my time watching him do that. :-) His cute little hips just'a movin' and a'shakin'!
Play Mat
We registered for a play mat and I probably wouldn't recommend it. Not because it is a bad thing to have, just because it is not that useful for very long. I feel like a blanket on the ground and you interacting with your baby is the best thing for him/her. You don't need
a $50 toy
to do that.
- Nursery Items -
Baby Monitor
I went back and forth as to whether or not we needed a monitor, but in the end I'm glad that we got one. And I also debated as to whether we really needed one with video. But actually, we use the video aspect more than the sound.
Here is the link
for the one we got. It's nothing fancy but very reasonably priced. It does not have two way communication which may be something nice to have in the future, but our house is small enough that we didn't feel like that was necessary. I will say that the range is not the best. So if you have a large home, I would not recommend this monitor.
Rocker/Glider
One thing I agonized over was a rocker/glider. I didn't want to spend a lot of money but I wanted something comfortable for those middle of the night feedings. We ended up semi-splurging on one and I'm so glad we did. It is an upholstered glider that I know will last through all of our kids. We got it scotch guarded and that has helped keep the spit up from ruining the upholstery. I also felt strongly that the back of the chair had to be high enough that I could lean my head against it, and I'm glad about that decision. I would say if you are going to spend money somewhere for your nursery, a comfortable and functional rocker/glider would be the place to spend it.
Diaper Pail
We got the
Arm & Hammer version
. It works well, but then again, we are just now getting into the really smelly diapers! So we'll see! But we like it because we have figured out a way to use regular trash bags in it instead of the expensive ones that they make to go inside. The door does feel a bit flimsy. When it becomes very full, the diapers start to push the door open, even when it's locked, but I think that is because we rigged it up to take the regular sized kitchen trash bags. I imagine that when it is full of smelly diapers, it may not do the best job of keeping the smells at bay. I recently found
this new brand
of diaper pail
(Ubbi)
that I would be interested in trying. It is a bit more expensive but it seems like it might be worth the extra cost. If someone has one, I'd love to hear how you like it.
Changing Station
We use a dresser as a changing table, which I love because then he can still use it when he gets bigger. To make the dresser into a changing table, we just bought a changing pad to put on top of the dresser. We have two changing pad covers and some
changing pad liners
. I thought it would be nice to have the liners to cut down on how often I needed to change the pad cover. But I'm not happy with how this brand of liners wears in the wash. It would work just as well to put a burp cloth down, or towel, instead of the changing pad liners.
Bedding
We have four cribs sheets (I love these
jersey sheets
) which has been plenty, for now! We probably really only need/use 3. We did not get bumpers or a comforter. We pretty much just have a crib skirt and sheet and that's been fine for us. The quilt was a hand made gift from one of my best friends. And I love it!
Other Nursery Necessities
We put up a black-out shade for his window and I think that helps him nap better. We also use a humidifier all the time for him - good for when they have a cold but also acts as a nice white noise maker. LOTS-O-Baskets! We use LOTS of baskets/bins for storing clothes, toys, extra diapers and wipes, shoes, etc...
For more information about our nursery design and organization click here and here.
- Baby Care Items -
Grooming items
-We decided on traditional diapers. We started out using pampers but now have switched to the Sam's club brand because they are about 10 cents cheaper per diaper.
-Lots of Desitin cream because it's awesome stuff! At the first sign of redness we put it on and it clears his skin right up. We always apply it at night too and he's never had a significant diaper rash. Note: we were disappointed in the CVS generic brand - very runny and not very good. Other generic brands may be ok, but be careful. After we tried the CVS brand, we just stuck with the name brand stuff.
-I love hooded towels for bath time … Some small and some larger ones for when they are bigger.
-This toothbrush
. We use it to brush his teeth and he also loves it as a teether too.
-You gotta have a baby tub and I would recommend one that has a sling insert for when they are newborns.
-Also, this is the BEST smelling
bedtime lotion
. We use it every night! It's momma crack! I could sniff it all day.
Nose Care
FACT! Babies have runny noses all. the. time. But as a mom, it's hard to look at those runny noses all day long. For a while we used a
nasal aspirator
. (We also got one from the hospital but the store bought one works better.) He would scream and it would be a whole thing. It worked... but it was pretty exhausting for him and me.
One day we thought we lost our nasal aspirator, so I went to the store for a new one, but curiosity got me and I bought the
nose frida
. Have you heard of it? The snot sucker?
Here's a video of it
. Basically you suck through a small hose/tube to create suction through a tube placed up to your baby's nose. This tube collects the snot but prevents any of it from getting to you by way of a filter. At first, I was skeptical. (Snot sucking? Ew! Gross!) But then I tried it! And it works SUPER well! And he doesn't scream NEARLY as much. And it's much easier to clean than the nasal aspirator! Win win win! Now $15 does seem pretty outrageous for a plastic tub and tiny filter but, if it works, it works! Well worth the cost, in my opinion. We also really love
these boogie wipes
. They help clean off crusty noses in a more gentle and soothing way compared to just using kleenexs or wipes.
Diaper Bag
I watched a lot of youtube video reviews on diaper bags and
this one
was very popular, so that's the one I went with. I like that it has a long strap so I can wear it cross body. I also like the side bottle pockets. I like that it has front pockets, and a shallow top pocket for my wallet. The only thing I don't really like is that it is a little lacking in inside storage. There is not much room for an extra pair of clothes, wipes, the diaper changing pad, toys, blankets, etc.. literally all things that are nice to carry around. It's a hard balance between wanting all the storage and not wanting to tote around a huge bag. I also know that Michael appreciates that the design is not overly feminine for the times where he has to carry it.
Travel Diaper Changing Pad
This is the one
we have. We use this all. the. time. We keep it in the diaper bag and take it wherever we go. I use it on bathroom changing tables in public restrooms….when they are available….. and when they aren't available, it's great to have so that you don't have to lay your baby on the dirty floor. :-( gahhhh!
Blankets
Aden + Anais
blankets were our favorite for swaddling. I absolutely love the designs they offer. The material is guazy which puts a momma's heart at ease knowing that baby can breath through them if they should happen to get a blanket over their face. They are a bit pricey for what they are but momma likes what momma likes.
Babysitter Bag
We bought a big tote from Lands End that we use for the babysitter's. It's huge, but we can leave a pack of diapers, a big thing of wipes, clothes, bottles, blankets, burp clothes, his lovey and more. It's great because we just fill it up at the start of the week and then take it home to refill at the end of the week. Sometimes, if we are going somewhere for the whole day, we'll bring it too since we know it's stocked with everything we'll need.
Some things we didn't get but maybe will get for next time:
Bottle warmer
Extra pump connectors and shields
A hand pump to have in case of emergency
Some things we got but either returned or didn't use:
Wipe warmer
-I don't get to wipe with something warm, why should my baby?!
Play mat -see above
Pacifiers -we got so many and he didn't take any of them!
Teething rings -another thing we got tons of!
Bibs -We have 4 favorites that we rotate through, but we were gifted probably close to 20!
This type of car seat cover
-we HATED it because it was constantly blowing around in the wind or sliding down the handles! So we returned it and bought
one like this
Hopefully, for all those moms-to-be, you find this information helpful. I'd love to hear from other momma's about what they have found to be their favorites and their not-so-favorites. What do you swear by or what wouldn't you wish on your worst enemy?
Happy Registering Momma!